PRODUCT SPOTLIGHT
New! HylaLUBE™
Try the new HylaLUBE for optimal joint support for your four legged family member!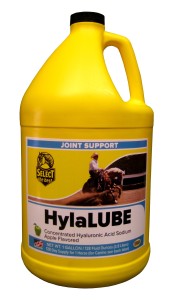 More Concentrated: 325 mg per 1 Ounce Dose!
Biologically Fermented, High Molecular Weight, in Liquid Form for Better Absorption
High Viscosity to Make Feeding Easier
Lightly Flavored With Apple!
Canine approved
The New HylaLUBE is an oral supplement containing Hyaluronan or as it is also known as Hyaluronic Acid (HA) for Joint support. HA has been identified as the main consistency in joint fluid and is key to a healthy joint structure. HylaLUBE is in liquid form utilizing high Molecular Weight (MW) and now provides a more concentrated dose of 325mg per 1 ounce! Also for dogs! If you liked the difference you saw when supplementing your animal with our HylaRx Vet Strength, you'll love HylaLUBE! Now lightly flavored with Apple!
---
Share Your HylaLUBE story!
Be sure to take before & after videos!  If you see a noticeable difference in your horse after trying HylaLUBE, and provide us with before & after videos along with your horse's story, we will send you one free 32 day supply of HylaLUBE or another Select product to try!
Please send any testimonials through our contact page and choose "sponsorship" when clicking the subject menu.  Make sure to include detailed information on your animal including age, discipline, and timeline in using the product.  Also include shipping and contact information to receive your free product.  Free product will only be provided for useable, royalty free videos that we can post to our website, social media, and other marketing material.  Any material that could be considered as drug claims will not be used.
---