HylaLUBE™ Pellets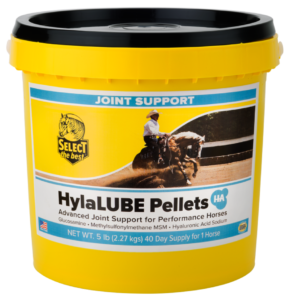 HylaLUBE Pellets contains an advanced formula designed to support joint function for horses of all ages and activity levels. It provides key ingredients for joint fluid shock absorption and lubrication. Secondly it contains beneficial building blocks for healthy cartilage. Lastly it is pelleted with stabilized rice bran for ease of administration and uptake. HylaLUBE Pellets are especially helpful for the equine athlete and those subject to intense training & competition.
Product Facts:
Glucosamine - Contains 10,000 mg - For Improved Joint Support
Hylauronic Acid Sodium - Contains 350 mg - For Improved Joint Support
MSM - Contains 5000 mg - Supports A Natural Healthy Response For Exercise & Competition
Vitamin C® - Contains 1000 mg - Antioxidant Ingredient
Pelleted For Ease Of Administration & Uptake
Testimonials Coming Soon!
Share your HylaLUBE Pellets story!
---
HylaLUBE™ Pellets Product Sizes Available